Truck Company Operations : 24 Hours
Student Fee
Check Class Details for Cost
---
Course Description
This 24-hour program is designed for firefighters who are primarily assigned to, or respond as, members of a Truck or Ladder Company. The program offers firefighters an opportunity to either sharpen their current skills or learn new and efficient skills for all the various tasks required of truck company members. This program is an intensive hands-on program, and includes training responses to structural fires to provide an opportunity to experience the role of the truck company at a fire. Topics include riding assignments and personnel deployment, ground ladders, aerial device tactical considerations and spotting, forcible entry for residential and commercial construction, including the use of hand, power, and hydraulic tools, proper horizontal and vertical ventilation, fireground search and rescue, salvage, and overhaul.
---
This course is part of the following Programs
fire fighting
on-site live fire
---
Prerequisites:
There are no prerequisites to taking this course
---
Information Flyer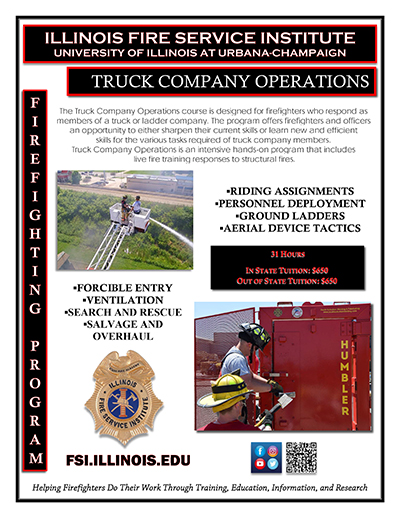 ---
If you have specific questions about this course contact JONATHAN FRYE
If you are interested in having this course taught in your area, contact your regional representative or
JONATHAN FRYE
.
If you are not sure who your regional representative is, take a look at this map. It is color coded by county. The regional representatives are listed below.
Upcoming Classes
Click on the city name for more details and registration options
---
champaign
Tue, Mar 6 2018 -
Thu, Mar 8 2018


champaign
Tue, Jun 26 2018 -
Thu, Jun 28 2018


champaign
Mon, Oct 29 2018 -
Wed, Oct 31 2018


Applicable Credits
As of 01/22/2018
CFR
Meets or exceeds 29 CFR 1910.134, 155-159 (i).
---
NFPA
Reference NFPA 1001, 1500, 1710, 1720.
---
NIMS Compliant
This course is NIMS compliant.
---
OSFM Certification
None, although some skills may apply toward Certified Firefighter II and III.