Advanced Breathing Apparatus Specialist (Smoke Divers) : 24 Hours
Student Fee
Class specific
---
Course Description
The emphasis of this course will be the safe and efficient use of self-contained breathing apparatus. This program emphasizes core skills such as: donning, doffing, shifting, dumping, emergency procedures, and buddy breathing. Following demonstrated mastery of these core skills, the student will work in real and simulated fire conditions while performing functions where self-contained breathing apparatus are essential, including fire ground search, air conservation, self rescue, and firefighter rescue techniques.
---
This course is part of the following Programs
fire fighting
on-site live fire
---
Prerequisites:
There are no prerequisites to taking this course
---
Information Flyer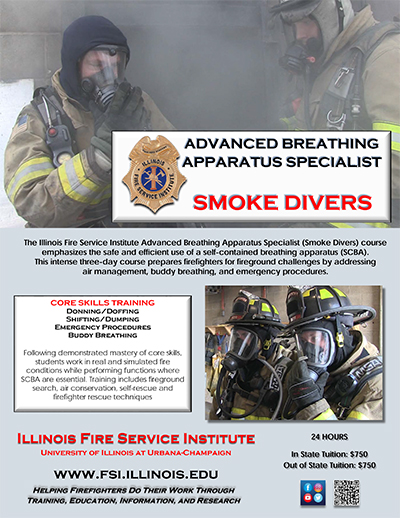 ---
If you have specific questions about this course contact TOBY JACKSON
If you are interested in having this course taught in your area, contact your regional representative or
TOBY JACKSON
.
If you are not sure who your regional representative is, take a look at this map. It is color coded by county. The regional representatives are listed below.
Applicable Credits
As of 11/21/2017
CFR
Reference CFR 1910.155-159 (I) & .134
---
NFPA
Reference NFPA 1001, 1500, 1710, 1720.
---
NIMS Compliant
yes
---
OSFM Certification
Some skills may be applied toward Certified Firefighter II and III fire fighting objectives. Record keeping of specific objectives accomplished is the responsibility of the student and his/her training officer.
Upcoming Classes
Click on the city name for more details and registration options
No upcoming classes.