Trench Rescue Technician Student Field Guide Order Form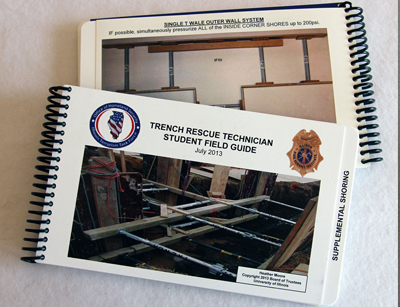 The University of Illinois Fire Service Institute (IFSI) has introduced a new book - "Trench Rescue Technician Student Field Guide." The handy pocket-size guide (TFOG) was developed by IFSI Instructor Heather Moore. The TFOG features Incident Command and Technical Rescue Ops check list, step by step intersecting trench shoring diagrams, manufacturer's tabulated data, OSHA interpretation reference material and also serves as a guide for first responders.

The book is used as part of IFSI Special Operations Training Program's Trench Rescue Technician classes. The book includes fully illustrated with easy-to-follow photographs and diagrams of shoring systems critical to successful rescue operations including: "T" Wale System, "L" Cantilever System, "L" Horizontal Raker System, and the "L" Cantilever with Corner Strut System.

"As a student and instructor, I saw a need to have a reference guide to use as a quick reference tool to use when training or responding to a trench incident," Heather Moore said. "It's the first of its kind to extensively cover intersecting trenches. I hope this helps our technical rescue team members complete their work in the best and safest methods by allowing our rescuers to navigate through what ever challenges they may encounter during a trench incident."

IFSI's SWMD: Trench Rescue Technician class is offered several times throughout the year at IFSI's Champaign campus and at Regional Training sites throughout Illinois. More than 20 instructors are certified to teach in the Trench Rescue Program.


$75 - Trench Rescue Technician Student Field Guide.
Use the online form below to order your guide today.
---
Courses
Firefighter Memorial