Illinois Prescribed Fire Council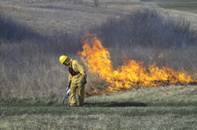 The Illinois Prescribed Fire Council is a group of individuals, organizations, land mangers and agencies who have an interest in ensuring the safety and effectiveness of prescribed fires in Illinois. Membership is open to anyone. Those interested in natural resources, fire protection, public policy, habitat restoration, wildlife, in addition to private landowners and volunteers may find membership particularly beneficial.
Training and Events
Learn to Burn Workshop
Come attend this training to learn how to safely use prescribed fire to manage natural areas.
Topics to be covered include why fire is important to the ecology of the area, the tools used, safety considerations, and the techniques used to conduct a prescribed burn. The training will include 3 hours of classroom instruction at Hennen Conservation Area, followed by a prescribed burn on site or close by (weather permitting). Dress for the weather. Wear work boots, not gym shoes. Please bring leather gloves if you have them.
Mission Statement
The mission of the Illinois Prescribed Fire Council is to promote the safe and continued use of prescribed fire on the Illinois landscape
Board of Directors
Brad Woodson - President
McHenry County Conservation District
7210 Keystone Road
Richmond, IL 60071
815-678-4532
il.prescribedfire@gmail.com

Bill Kleiman - Vice President
The Nature Conservancy
8772 S. Lowden Rd.
Franklin Grove, IL 61031
815-456-2340
bkleiman@tnc.org

Leslie Berns - Secretary
Lake County Forest Preserves
32492 N. Almond Rd.
Grayslake, IL 60030
847-968-3293
lberns@lcfpd.org

Randy Heidorn - Treasurer
Illinois Nature Preserves Commission
One Natural Resources Way
Springfield, IL 62702-1271
217-785-8686
randy.heidorn@illinois.gov

Thomas Richter - Director
University of Illinois - Fire Service Institute
11 Gerty Dr.
Champaign, IL 61820
trichter@illinois.edu

Douglas Chien - Director
Friends of the Forest Preserves
1047 Highland Ave
Oak Park, IL 60304
708-763-0953
dskchien@sbcglobal.net

Jeff Martina - Director
Midewin National Tallgrass Prairie
30239 South State Route 53
Wilmington, IL 60481
815-423-6370
jmartina@fs.fed.us

Dr. Charles Ruffner - Director
Department of Forestry - SIUC
Mail Code 4411
Carbondale, IL 62901
618-453-7469
ruffner@siu.edu

Bob Szafoni - Director
Illinois Department of Natural Resources
1660 W. Polk
Charleston, IL 61920
217-345-2420
robert.szafoni@illinois.gov

Paul Tierney - Director
Beach Park Fire Department
3233 N. Lewis Ave
Beach Park, IL 60087
847-662-2642
ptierney@beachparkfd.org

Jason Timm - Director
Kell Fire Department
600 St. Rt 37
Kell, IL 62853
618-822-6838
jtmm@illinois.edu

Brad Woodson - Director
McHenry County Conservation District
7210 Keystone Rd
Richmond, IL 60071
815-678-4532
BWoodson@mccdistrict.org


Board of Directors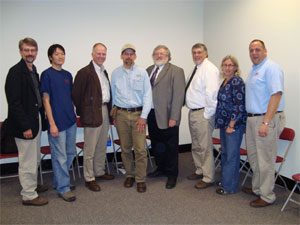 From left to right (click above for larger image)
Bob Szafoni (IDNR), Doug Chien,
Dr. Stephen Pyne (Arizona State University),
Bill Kleiman (TNC), Randy Heidorn (INPC),
Jim Anderson, Leslie Berns (Lake County FPD),
Brian Brauer (Illinois Fire Service Institute)

Courses
Firefighter Memorial
Today's Line of Duty Deaths
No records for today. Click "Memorial Homepage" below to view our records.